West Hall care home, Surrey
west byfleetsurrey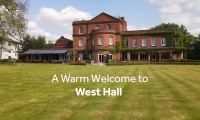 Welcome to West Hall
Move-in offers available
When it comes to choosing a care home you can trust us. Find out how we can help you and your loved one with our move-in offers.
Situated in the Surrey village of West Byfleet and set within the extensive grounds of a listed manor house, West Hall is our flagship luxury care home. We offer outstanding care in luxurious surroundings, whether this is on a permanent basis, respite breaks, specialist dementia care or a peaceful haven to convalesce following a hospital stay.

At West Hall, we promote friendship and companionship. Our accommodation is arranged into three specially built residences (or residential lodges) radiating out from the house. Each has large individual bedrooms and shared living and dining areas, which promotes a real sense of an intimate community. These are designed for space and safety and furnished with comfort and convenience in mind and can be adapted to meet individual needs and preferences. Set upon acres of beautiful land our smaller communities can really experience the best of both worlds.

As you'd expect, high levels of care and support are available 24-hours a day. Our team of specialist carers deliver a service that's unique to each individual's needs, encouraging residents to enjoy their independence, with the reassurance that help is at hand at all times.

Encouraging a high quality of life is at the heart of our culture and ethos at West Hall. Our highly trained and dedicated team approaches every day with professionalism and compassion, delivering a service that's unique to each individual's needs. This encourages residents to enjoy their independence, with the peace of mind that help is at hand, should they ever need it.

My mother has been at West Hall for many years and we have always been very happy with the care she has received. It is more than care, the staff are devoted to the residents and daily go above and beyond to make sure my mother receives the best of everything. She has had Covid twice and is still thriving. I put that down to the excellent staff at … West Hall.

One member of staff in particular is wonderful, feel very secure leaving my mother in her care. Very genuine, authentic care home with lots of smiles and laughter. Very pleased we found this home!

West Hall is a lovely care home offering residents a lovely home with plenty of activities. The staff are very professional, empathetic and caring. As a family, we have total confidence in the care that our mum receives.

My father has been looked after very well during his stay. His dietary requirements have been well catered for and the staff look after him and the other residents.

My father stayed in Maple Lodge from January to May and I was delighted with the care he received during this time. The facilities were first class including the rooms, the beautiful grounds and the food, but what stands out above all this is the wonderful care, warmth and kindness shown by every member of staff. I was nervous about Dad moving but … he settled quickly and felt at home. I witnessed the banter between dad and the carers which was lovely to see. The team really do care for the residents and go out of their way to make their stay happy and fun. I also got to know the managers and teams of the other lodges who were also wonderful. I cannot recommend West Hall enough for looking after my dad so wonderfully - and the team quickly became part of dads extended family.

I have nothing but positive things to say about Birch Lodge in West Hall. They have exceptional care of my friend, treating her like family. Without their dedicated and compassionate care, I can't imagine what would have happened to her. The team here is truly remarkable and I couldn't be more grateful for their outstanding support.

Mum has been at West Hall for over five years and we cannot praise the team in Birch highly enough. Some of the team have been here since Mum arrived and even those that haven't soon become part of the family. Excellent care and facilities. We continue to be very happy and couldn't wish for a nicer place for our beloved Mum.
1 of 3
Features of West Hall
Communal facilities
Shared facilities complementing each private residence:
Engaging activities programme
Garden
Communal lounge
Hobby / craft room
Hairdressing salon
Care and support
In addition to residential care, we also offer:
Respite care
Palliative care
Dementia care
Convalescence care
Parkinson's disease
Food and dining
We promote wellbeing through a positive dining experience:
Communal dining area
Nutrition and hydration stations
Private dining area
Life at West Hall
You'll always find plenty to do at West Hall. With a host of leisure activities for you to take part in, our home has a great community feel where people engage with their fellow residents, families and friends, and continue doing all the things they usually enjoy in a supportive environment.

With social events in the home and the local community arranged in collaboration with residents, you can make your life at West Hall a hive of activity or as gentle as you wish.

Favourite activities, personal interests and ability are discussed when you move in and using this information helps us create a stimulating events and activities calendar matching individual residents' interests and needs.

The home's wide range of facilities and its unique design support our approach to activities, with several dedicated activity areas at West Hall including an arts and crafts room which has cooking facilities, a library, garden and a spa.

We know how important it is to maintain close bonds with the people in your life. At West Hall, your visitors are always welcome at any time, including mealtimes and to take part in activities.
Pricing information
We endeavour to be completely transparent about all our charges and fees. For further information please contact us.
How much does it cost?
Care homes
Call us to discuss your specific care needs today.
What is included in care home fees?
For many people, moving to a care home is a big decision and it can be difficult to know where to start. Care home fees are based on a range of factors, including specific care needs, which can change over time.

Living in an Anchor care home you can be confident that a single fee covers the cost of your personally tailored 24 hour care and support, utility bills and meals, as well as a fantastic range of daily activities. In an Anchor care home our weekly charge includes:
- cost of personal care
- accommodation
- utilities e.g. heating and light
- all resident catering, meals, snacks and drinks
- laundry undertaken on the premises
- television licence, including for person use
- housekeeping services.

The following extra items and services are not covered by the weekly fees, however we can arrange for them to be provided (at an additional cost):
- professional hairdressing
- personal copies of newspapers or magazines
- personal purchases such as stationery, confectionery, toiletries etc.
- clothing, shoes and slippers
- dry cleaning
- private telephone line rental and calls and cable connections.

In the absence of free provision by the NHS, we can also arrange for the following healthcare services to be provided, these will be charged in addition to the weekly fees:
- chiropody
- optometry
- dentistry
- physiotherapy
- other privately arranged healthcare
- care staff accompaniment to regular medical appointments.

No upfront deposit is required at any of Anchor's care homes to secure a room.

At Anchor we pride ourselves on offering a truly tailored approach to care and therefore need to fully understand your needs to provide you with an accurate fee estimate. Please call us to discuss your specific care needs today. Alternatively we welcome you to visit us to discuss your situation face-to-face.
Want more information on care home fees?
Learning about the different funding options available to you can also help you feel confident in your decisions. Anchor know that securing care home funding can sometimes appear a rather daunting task and so to help we have put together a free guide covering requesting assistance, top up fees and third-party payments.
Care home fees
At West Hall we have a caring team of well qualified professionals, passionate about what they do and dedicated to ensuring our residents always feel confident that they can rely on a friendly face and helping hand 24-hours a day.

We encourage visits to West Hall so you can meet our team and get a feel of what it would be like to live here. You will be able to look around, meet other residents, find out what goes on and ask any questions you may have. It is important to us that you make the right decision and are happy with your choice of new home.

The friendly team at West Hall care home would love the chance to show you what our home has to offer here in Surrey. Here are just a few of the people you may meet on a visit to our home:
---
Mark Garraway
Maintenance Manager
As West Hall's Maintenance Manager, Mark is focused on providing residents with real peace of mind, working hard to ensure the home is well maintained at all times. Mark started his career as an apprentice hard and soft Landscaper and quickly went on to become a Head Groundsman. Keen to expand his skills, Mark decided to train as a Carpenter Joiner, and over the years worked for several companies on an array of projects including new builds and refurbishments as a Site Manager. Mark joined Anchor in January 2012 and really enjoys his current role at West Hall.
---
Debra Cockburn
Administrator
West Hall is a great place to live and work, I'm proud to be part of the team.
3 for 2 short stay respite offer
We are offering you an opportunity to receive 3 weeks care for the price of 2 weeks when you move into one of our participating care homes on a short stay respite basis*
Two weeks free stay offer
We'd like to offer you an opportunity for two weeks' free stay when you move into one of our participating care homes on a permanent basis*
Welcoming you
We are currently offering you an opportunity for:
two weeks' free stay when you move into one of our participating care homes on a permanent basis. Click here to find out more and read the full details of the terms and conditions of this offer.
3 weeks care for the price of 2 weeks when you move into one of our participating care homes on a short stay respite basis. Click here to find out more and read the full details of the terms and conditions of this offer.
We pride ourselves on making sure we understand your loved one – their likes and dislikes, hopes and passions – so you can be sure they enjoy a special and lasting welcome at Anchor. Because your loved ones are our loved ones.
When it comes to choosing a care home you can trust us. Click here to read our resident stories.
To start your enquiry simply click 'Enquire now' at the top of the page and either call us or complete an online enquiry form.
We'll provide you with full details of the home, along with any other information you'd like, such as sample menus and activity schedules.
Whether you're looking to stay with us permanently, or for a short break, we'd be delighted to take you on a show round of the home in person. Simply book a visit with the home manager once you've made your enquiry.
If you or your loved one doesn't live nearby or are unable to visit in person we can provide a virtual show round. Either way, we're keen to show you what daily life is like here and for you to meet our friendly team.
We hope you decide that following your visit that you or your loved one would like to move into the home, in which case we'll organise a pre-assessment to make sure we can meet all your care needs.
Our friendly onsite team will discuss every area of moving-in with you in detail to make sure you and your loved-one know exactly what to expect and feel confident, safe and welcomed when coming to live with us.
Before you move in, we will find out if there are any of your possessions that you wish us to place in your room before you arrive. Please bring your family photographs and most treasured possessions to help make your room your home.
We understand how important visits are for everyone and we welcome regular visits from family and friends. We also actively support our residents to enjoy visits away from the care home.
Each of our homes is different and the manager of the care home you're interested in will provide all the information you need around visiting.
Getting here
West Hall
Off Parvis Road, West Byfleet, Surrey, KT14 6EY
Want to find out more about West Hall?
A review from the friend of a West Hall resident
"The team go the extra mile to accommodate residents' wishes, whether it is providing special food requests, printing out emails from overseas relatives or having residents' furniture and pictures in their rooms. The design and upkeep of the rooms, gardens and facilities are of a high standard and there are loads of activities on offer with a dedicated team who organise day trips and on-site activities. Strong support from the local GP surgery, physio and dental services are all geared towards keeping residents in the best of health. A brilliant team all round. Thank you all."
Read more reviews on www.carehome.co.uk