Pemberley Place
LansdownBath
Beckford Drive, Lansdown, Bath, Somerset, BA1 9DX
Save property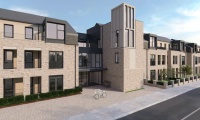 Welcome to Pemberley Place
A friendly and safe welcome
Find out how we are welcoming new residents into our retirement housing, alongside the measures in place to keep everyone safe.
With beautiful countryside on your doorstep, you'll enjoy easy access to the World Heritage City of Bath for shopping and socialising.

Arranged in two and three-storey blocks of Cotswold stone, 43 apartments will be offered on a shared ownership basis, while 29 will be made available for rent. Combining classic, high quality style with the very latest secure technology, the low-maintenance, modern apartments will help you relax in comfort. You'll have a home that's easier to manage, without compromising on space.

Pemberley Place will offer flexibility to adjust to changing needs, with access to support if you need it and privacy if you don't. You could meet with friends for lunch or socialise with your new neighbours as part of a brand new community. We're expecting lots of interest in this high quality development, so register your interest today to receive the latest updates.
Pemberley Place currently has 0 reviews
Join our growing community today
Your journey to the next chapter of your life starts here. Register your details to hear more about our invite only events, exclusive price launches and complimentary visits to our luxury sister developments.
Register today
Features of Pemberley Place
Communal facilities
Shared facilities complementing each private residence:
Beauty salon
Cafe
WiFi
Scooter storage
Hairdressing salon
Outdoor space
Well maintained outdoor space for you to enjoy:
Garden
Extensive grounds
Seated patio area
Landscaped gardens
Sensory garden
Care and support
More support available when you need it:
24 hour emergency response call system
Straightforward, supportive and safe
Staying safe
We continue to welcome new residents to our retirement housing safely. We ask residents, colleagues and visitors to consider using face-coverings in shared and busy areas and have thorough cleaning regimes for our shared spaces.
Making the most of technology
Everyone's safety and wellbeing is our absolute priority, so where possible we are offering prospective residents the opportunity to use technology to do virtual viewings and can send videos and photographs to support your decision making. We will of course be delighted to welcome you for an in-person viewing if this is your preference.
Useful information
We are open to new residents.
To start your enquiry, simply click "Enquire now" and call us or complete an enquiry form.
Our helpful team will offer you all the information you need to find your next home - we'll provide you with full details of the property including up to date information on current vacancies and our waiting list.
When inviting you to consider a property everyone's safety and wellbeing is our absolute priority.
To help you view the available property we can send you photographs and videos and offer a virtual show round video call, where you will be able to speak to the friendly manager one-to-one and take a look around. Alternatively, we can offer an in-person viewing if you prefer.
During this time we continue to exercise precautions to ensure the safety and wellbeing of our colleagues and visitors and so will only invite you to view a property in person once it is empty, and after you confirm that no member of your household is displaying any symptoms or self-isolating.
Our aim is for each viewing to be as safe and easy as possible, so during your visit the manager will observe social distancing at all times and you will be asked to follow handwashing guidelines and consider using a face covering in the communal areas. Ahead of your arrival the manager will open all the doors minimising your need to touch surfaces and ensuring rooms are well ventilated. They will also minimise risk by taking you to the property via the safest route possible and back up all other precautions with a thorough cleaning regime.To help you view the available property where possible we will send you photographs and videos and offer a virtual show round video call, where you will be able to speak to the friendly manager one-to-one and take a look around.
Your manager looks forward to welcoming you to your new home.
They will be your main point of contact and will work with you to ensure your move goes smoothly and will continue to support you to settle in, offering you any advice and guidance you need to feel at home and confident in your choice to live with us.
During this difficult time, we recognise, see and hear how much coronavirus is affecting the people living independently with us across our retirement housing and we want to help and support you as much as we can.
As part of that support, we have introduced a range of new tools to complement the existing wellbeing services we offer residents. These include services such as BeActive, our free online wellness and movement programme and we have also partnered with UK-wide call companion provider Reengage to offer a free telephone-based befriending service, BeSupportive, to help those who may not have others to talk to.
Where possible, we also put residents in touch with the many great local initiatives that aim to support people during this time and beyond.
Read more about how we are supporting our housing residents during coronavirus here.
Getting here
Pemberley Place
Beckford Drive, Lansdown, Bath, Somerset, BA1 9DX
Want to find out more about Pemberley Place?