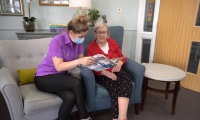 Welcome to Thameside
A friendly and safe welcome
Find out about making an enquiry and how we ensure a warm and safe welcome to all new residents.
Anchor's Thameside care home in West Molesey is a trusted provider of care for elderly people, and we offer support for older people who have residential and dementia care needs.

Our care home's well trained and helpful staff provide 24-hour care and support to help you maintain your chosen lifestyle.

At Thameside, activities play an important role and we aim to enhance our residents' quality of life by providing a varied range of social activities.

We pride ourselves on the quality of our catering, with our Chef Manager preparing meals daily from fresh, seasonal ingredients.

Set in its own beautiful grounds, Thameside care home is close to local services and amenities. These include a supermarket, Molesey High Street, Molesey Lock, Bushy Park, Hampton Palace and the River Thames.

In times of uncertainty, Anchor is a care provider you can depend on. We are proudly not-for-profit with 60 years of experience.

We're here to help and look forward to giving you a warm welcome.


Thamside Care Home is a home-from-home. It is run by an admirable management team whose ethos and philosophy of respect and caring are displayed by every member of their staff. It is a warm, bright and inviting place full of kind, friendly, caring and helpful personnel. My husband went into the home for three weeks of respite, and he settled so wel… l that he is staying for longer. The food is delicious, and the dining room is warm and cosy. The bedroom with ensuites is spotlessly clean; in fact, the whole place is a testament to its rigorous attention to detail by an amazing, hardworking team led by an inspirational management team.

The staff and management at Thameside do the most wonderful job taking care of my mother. They are kind and attentive, and nothing is ever too much trouble. My mum loves them all, and I am confident that she is receiving the best care possible. The home itself is well kept and very clean and a pleasant place to be. The activities seem varied and … the residents are often in the middle of something when I turn up to visit, I don't want to interrupt! In all, Thameside has made the very difficult decision of placing my mum into a care home much easier. I would not hesitate to recommend it.

On entering Thameside care home it was like a 'breath of fresh air'. The management, admin team and staff are very approachable, helpful and very friendly. The setting inside was calming, clean and tidy. My father-in-law has settled into his new home exceptionally well and as a family all feel so much happier that he is settled, well looked after a… nd cared for. They really do cater for his needs, the attention to detail is very impressive. We would highly recommend this care home, especially knowing your loved one is in a safe, secure environment and looked after. He is very happy and that in itself makes a huge difference. Thank you, Thameside for all your support.

My mother has resided at Thameside for almost two years. Very happy with the care she receives. The carers are always so helpful and go above and beyond to help the residents feel comfortable and cared for. The managers and team leaders are always approachable, open to suggestions and willing to do all they can to make the residents stay better.

From the moment we walked through the doors at Thameside, we were blown away by the warmth and care that greeted us. We were flooded with relief I felt very reassured leaving my father. We knew instinctively he was in safe hands. Bright, clean rooms which are well-maintained makes the world of difference. A special thank you to staff for making… a difficult time easier. The difference in my father is remarkable and that's thanks to you all.

Very clean and professional. The TV aerial signal reception in room 25 needs a booster. Grass needs cutting at the West Mosely site. Residents kept saying it was too long to sit outside with guests. Requires a new gardener. Otherwise, great.

The Thameside team cared for my father with Alzheimer's and my mother with Parkinson's during the last four years or so. They did an outstanding job, providing professional and kind care for my parents. Communication was excellent and the team are very helpful and understanding. The home is kept in an immaculate state and is always a welcoming plac… e. Thank you all again for everything you have done to make things better for my parents and the rest of our family!
1 of 3
Features of Thameside
Communal facilities
Shared facilities complementing each private residence:
Engaging activities programme
Garden
Communal lounge
Hairdressing salon
Communal iPad
Care and support
In addition to residential care, we also offer:
Palliative care
Huntington's disease
Dementia care
Convalescence care
Parkinson's disease
Food and dining
We promote wellbeing through a positive dining experience:
Communal dining area
Nutrition and hydration stations
Life at Thameside
At Thameside care home, we provide quality 24-hour residential care and specialist care for residents with dementia.

We support and develop our staff on an ongoing basis to enable them to provide the highest quality care for our residents.

At our home we have:
- A 'pets are welcome' policy by arrangement with the Manager
- A hairdressing salon
- A lift to upper floors
- A personal laundry facility and laundry service
- Facility for a private telephone line in each room
- Regular religious services and meetings should you wish to take part
- Newspapers which can be ordered and delivered daily to your room
- Wheelchair access and car parking

Nearby facilities:
- West Molesey town centre is about a mile away and can be reached using excellent bus services
- The nearest hospital is Kingston Hospital
- Hampton Court Railway Station is about a mile away
- A theatre, swimming pool and supermarket are under a mile away


Thameside is a unique, purpose-built residence which was designed to provide social and residential care. Set in a quiet location and in its own grounds, Thameside has 60 single, en-suite rooms some with lovely views of the gardens and countryside.

Our home is fully furnished and decorated to a high standard with a call system which ensures that help is at hand 24 hours a day.

We also have:
- Some rooms with views of the gardens
- A television point and connections for satellite and digital TV
- Tea-making facilities available to make drinks for you and your visitors

Other accommodation facilities include:
- Cosy lounges with TVs and quiet areas for reading and relaxing
- Bathrooms specially equipped so you can relax in comfort
- Safe, enclosed gardens

We encourage you to bring small personal items to enhance your room.


We know how important mealtimes are to our residents, so we always try to make this a sociable and enjoyable experience, whilst recognising individual choice.

Thameside's Food Promise ensures all our menus offer freshly cooked, appetising and nutritionally balanced meals including:
- Cooked breakfast everyday
- Wholesome homemade soup everyday
- Freshly baked biscuits and cakes everyday
- Traditional Sunday Roast
- Fish and Chip Friday
- A variety of snacks available all day

Our Chefs understand the nutritional needs of older people and ensure that our meals are prepared using fresh, seasonal ingredients.

We serve tasty, wholesome dishes and involve residents in selecting our menus at a local level. We offer daily choice of meals and cater for special dietary needs and preferences, helping keep our residents healthy and well nourished.
Our care home organises and arranges a variety of opportunities for our residents to enjoy daily activities in our home and in the local community.

We work in partnership with the National Association for Providers of Activities for Older People (NAPA) and encourage activities that enhance our residents' lifestyle, health and wellbeing.

Residents preferred activities, interests and ability are discussed when they move in and an agreed plan ensures that these requests are fulfilled (wherever possible). Our residents' suggestions for activities also help shape the planning process.

We organise supervised day trips to leisure facilities and places of interest as well as social events in the home, including themed restaurant evenings, arts and crafts, quizzes and regular entertainers.


Health
At Thameside, our caring and attentive staff work with our residents and their loved ones to create a detailed care plan which ensures our residents individual health and care needs are met.

We know how important it is to care for our residents with the dignity and respect they deserve and this is at the heart of what we do at Thameside care home.

Our commitment to advanced dementia training for our staff has helped the Department of Health pass its goal of 3,000 Dignity Champions nationwide.

Our health and social care partners include:
- A GP who is available on request
- A hairdresser visits every week
- A chiropodist visits on request
- A dentist and optician who visit the home regularly
- The district nurse and physiotherapist who visit by arrangement
- Holistic therapist visits can be arranged


Pricing information
We endeavour to be completely transparent about all our charges and fees. For further information please contact us.
How much does it cost?
Care homes
Call us to discuss your specific care needs today
What is included in care home fees?
For many people, moving to a care home is a big decision and it can be difficult to know where to start. Care home fees are based on a range of factors, including specific care needs, which can change over time.

Living in an Anchor care home you can be confident that a single fee covers the cost of your personally tailored 24 hour care and support, utility bills and meals, as well as a fantastic range of daily activities. In an Anchor care home our weekly charge includes:
- cost of personal care
- accommodation
- utilities e.g. heating and light
- all resident catering, meals, snacks and drinks
- laundry undertaken on the premises
- television licence, including for person use
- housekeeping services.

The following extra items and services are not covered by the weekly fees, however we can arrange for them to be provided (at an additional cost):
- professional hairdressing
- personal copies of newspapers or magazines
- personal purchases such as stationery, confectionery, toiletries etc.
- clothing, shoes and slippers
- dry cleaning
- private telephone line rental and calls and cable connections.

In the absence of free provision by the NHS, we can also arrange for the following healthcare services to be provided, these will be charged in addition to the weekly fees:
- chiropody
- optometry
- dentistry
- physiotherapy
- other privately arranged healthcare
- care staff accompaniment to regular medical appointments.

No upfront deposit is required at any of Anchor's care homes to secure a room.

At Anchor we pride ourselves on offering a truly tailored approach to care and therefore need to fully understand your needs to provide you with an accurate fee estimate. Please call us to discuss your specific care needs today. Alternatively we welcome you to visit us to discuss your situation face-to-face.
Want more information on care home fees?
Learning about the different funding options available to you can also help you feel confident in your decisions. Anchor know that securing care home funding can sometimes appear a rather daunting task and so to help we have put together a free guide covering requesting assistance, top up fees and third-party payments.
Care home fees
At Thameside we have a caring team of well qualified professionals, passionate about what they do and dedicated to ensuring our residents always feel confident that they can rely on a friendly face and helping hand 24-hours a day.

We encourage visits to Thameside so you can meet our team and get a feel of what it would be like to live here. You will be able to look around, meet other residents, find out what goes on and ask any questions you may have. It is important to us that you make the right decision and are happy with your choice of new home.
---
Gary Baker
Care Home Manager
Thameside is a friendly, welcoming family home and I am proud to work with such a caring and amazing team. We all take pride in the care, activities, fun and food we offer to our residents. We look forward to you visiting our home and meeting the team
---
Richard Mansfield
Deputy Manager
We understand that moving in to a care home can be a worrying time but we do everything we can to make the experience pleasurable and that you instantly feel part of the Thameside family.
---
Amy Jeremiah
Administrator
I love meeting new residents and their families and helping them through the process of moving in to our home.
---
Allison Winley-Greene
Receptionist
Being on reception and part of the Thameside family is something that I love. Being able to meet and greet family members as well as our residents always put's a smile on my face. I look forward to meeting you in the future.
Welcoming you
To start your enquiry simply click 'Enquire now' at the top of the page and either call us or complete an online enquiry form.
We'll provide you with full details of the home, along with any other information you'd like, such as sample menus and activity schedules.
Whether you're looking to stay with us permanently, or for a short break, we'd be delighted to take you on a show round of the home in person. Simply book a visit with the home manager once you've made your enquiry.
If you or your loved one doesn't live nearby or are unable to visit in person we can provide a virtual show round. Either way, we're keen to show you what daily life is like here and for you to meet our friendly team.
We hope you decide that following your visit that you or your loved one would like to move into the home, in which case we'll organise a pre-assessment to make sure we can meet all your care needs.
Our friendly onsite team will discuss every area of moving-in with you in detail to make sure you and your loved-one know exactly what to expect and feel confident, safe and welcomed when coming to live with us.
Before you move in, we will find out if there are any of your possessions that you wish us to place in your room before you arrive. Please bring your family photographs and most treasured possessions to help make your room your home.
We understand how important visits are for everyone and we welcome regular visits from family and friends. We also actively support our residents to enjoy visits away from the care home.
Each of our homes is different and the manager of the care home you're interested in will provide all the information you need around visiting.
Getting here
Thameside
Beldham Gardens, West Molesey, Surrey, KT8 1TF
Want to find out more about Thameside?