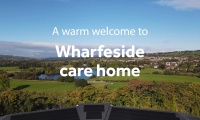 Welcome to Wharfeside
Move-in offers available
When it comes to choosing a care home you can trust us. Find out how we can help you and your loved one with our move-in offers.
Wharfeside care home in Westgate, Otley is a brand new state-of-the-art residential care home that's been purpose built to provide a safe, comfortable and luxurious environment for you or your loved one.

Wharfeside offers first class residential and dementia care. We are accepting new enquiries, simply contact us to find out more.

Wharfeside is located close to the shops and amenities of Otley town centre and offers stunning riverside views. The home has been designed with a variety of outdoor communal spaces to socialise in – including large first floor communal roof terraces with panoramic views.

Our passion at Anchor is giving older people a choice of great places and ways to live. We have 60 years of experience and provide housing, care and support to more than 65,000 people. We are an established and trusted provider with more than 100 care homes throughout England.

As a not-for-profit organisation and a registered charity, we are able to reinvest fully in the quality of our services. We are committed to the care and happiness of residents and aim to support them in continuing to enjoy their lives; doing all the things they love.

Our dedicated service, combined with Wharfeside's luxurious environment and facilities, mean you or your loved one can live a full, rich and meaningful life in the company of supportive and like-minded people.
Features of Wharfeside
Communal facilities
Shared facilities complementing each private residence:
Engaging activities programme
Garden
Communal lounge
Hobby / craft room
Hairdressing salon
Care and support
In addition to residential care, we also offer:
Respite care
Palliative care
Dementia care
Convalescence care
Parkinson's disease
Food and dining
We promote wellbeing through a positive dining experience:
Communal dining area
Nutrition and hydration stations
Private dining area
Life at Wharfeside
At Wharfeside we provide quality 24-hour residential care.

We support and develop our staff on an ongoing basis to enable them to provide the highest quality care for our residents.

At our home we have:
- Bedrooms with en-suite wet room facilities
- Impressive first floor balconies offering outdoor seating areas with stunning views
- Coffee shop
- Bar area
- A hairdressing salon
- A lift to upper floors
- A personal laundry facility and laundry service
- There is a private telephone line in each room
- Regular religious services and meetings, should you wish to take part
- Newspapers are available in the lounge or you could order one to be delivered to your room
- Wheelchair access and car parking

Nearby facilities:
- Wharfeside is 11 miles from Leeds and 10 miles from Bradford and excellent bus services are available
- The nearest hospital is Wharfedale Hospital
- Menston Railway Station is 2 miles away
- The town has a swimming pool and there is a supermarket within walking distance
Wharfeside is a unique, purpose-built residence which was designed to provide 24-hour care. Set in a riverside location in its own grounds, Wharfeside has 66 single en-suite rooms complete with wet room facilities.

Our home is fully furnished and decorated to a high standard with a call system which ensures that help is at hand 24 hours a day.

We also have:
- Rooms with views of the garden or river
- Some ground floor rooms that open directly onto gardens
- A television point and connections for satellite and digital TV
- En-suite private wet room as standard in all bedrooms

Other accommodation facilities include:
- Lounges and quiet areas for reading and relaxing
- A cafe and bar area
- Bathrooms specially equipped so you can relax in comfort
- Safe, enclosed gardens with seating areas for sunny days

We encourage you to bring personal items to enhance your room.
We know how important mealtimes are and like them to be a sociable and enjoyable part of the day. Our experienced Chef Managers attend Anchor's Cater Craft training course which enables them to understand the nutritional requirements of elderly people, and to ensure all meals are prepared from fresh, seasonal ingredients.

We serve tasty, wholesome, good food and our menus change regularly with a daily choice available. We also cater for residents with special dietary needs and create a "dining atmosphere" by decorating these areas in colours that stimulate the appetite and create ambience.

Our staff respect individual preferences. All these factors boost residents' appetites and enable them to enjoy their meals, which is essential in maintaining a healthy lifestyle.
Our care home organises and arranges a variety of opportunities for our residents to enjoy daily activities in our home and in the local community.

We work in partnership with the National Association for Providers of Activities for Older People (NAPA) and encourage activities that enhance our resident's lifestyle, health and wellbeing.

Residents preferred activities, interests and abilities are discussed when they move in and an agreed plan ensures that these requests are fulfilled (wherever possible). Our resident's suggestions for activities also help shape the planning process.

We organise supervised day trips to leisure facilities and places of interest as well as social events in the home, including themed restaurant evenings, arts and crafts, quizzes and regular entertainers.
Health
At Wharfeside, our caring and attentive staff work with our residents and their loved ones to create a detailed care plan, which ensures our resident's individual health and care needs are met.

We know how important it is to care for our residents with the dignity and respect they deserve and this is at the heart of what we do at Wharfeside care home.

Our commitment to advanced dementia training for our staff has helped the Department of Health pass its goal of 3,000 Dignity Champions nationwide.

Our health and social care partners include:
- A choice of 3 GP surgeries, who will visit on request
- A hairdresser visits twice a week or on request
- A chiropodist visits every 6- 8 weeks or when requested
- A dentist and optician who visit the home or you may visit one in the town if you prefer
- The district nurse and physiotherapist, who visit by arrangement
- Holistic therapist – visits can be arranged
Two weeks free stay offer
We'd like to offer you an opportunity for two weeks' free stay when you move into one of our participating care homes on a permanent basis*
Welcoming you
We are currently offering you an opportunity for two weeks' free stay when you move into one of our participating care homes on a permanent basis. Click here to find out more and read the full details of the terms and conditions of this offer.
We pride ourselves on making sure we understand your loved one – their likes and dislikes, hopes and passions – so you can be sure they enjoy a special and lasting welcome at Anchor. Because your loved ones are our loved ones.
When it comes to choosing a care home you can trust us. Click here to read our resident stories.
To start your enquiry simply click 'Enquire now' at the top of the page and either call us or complete an online enquiry form.
We'll provide you with full details of the home, along with any other information you'd like, such as sample menus and activity schedules.
Whether you're looking to stay with us permanently, or for a short break, we'd be delighted to take you on a show round of the home in person. Simply book a visit with the home manager once you've made your enquiry.
If you or your loved one doesn't live nearby or are unable to visit in person we can provide a virtual show round. Either way, we're keen to show you what daily life is like here and for you to meet our friendly team.
We hope you decide that following your visit that you or your loved one would like to move into the home, in which case we'll organise a pre-assessment to make sure we can meet all your care needs.
Our friendly onsite team will discuss every area of moving-in with you in detail to make sure you and your loved-one know exactly what to expect and feel confident, safe and welcomed when coming to live with us.
Before you move in, we will find out if there are any of your possessions that you wish us to place in your room before you arrive. Please bring your family photographs and most treasured possessions to help make your room your home.
We understand how important visits are for everyone and we welcome regular visits from family and friends. We also actively support our residents to enjoy visits away from the care home.
Each of our homes is different and the manager of the care home you're interested in will provide all the information you need around visiting.
Getting here
Wharfeside
Westgate, Otley, West Yorkshire, LS21 3AT
Want to find out more about Wharfeside?