Northbourne care home, Low Fell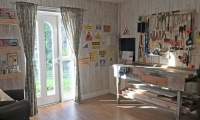 Welcome to Northbourne
A friendly and safe welcome
Find out about making an enquiry and how we ensure a warm and safe welcome to all new residents.
Anchor's Northbourne care home in Low Fell is a trusted provider of care for elderly people, and we offer support for older people who have residential and dementia care needs.

Northbourne provides an excellent standard of care and was rated Outstanding by the Care Quality Commission in their most recent inspection published in December 2020.

Our care home's well trained and helpful staff provide 24-hour care and support to help you maintain your chosen lifestyle.

At Northbourne, activities play an important role and we aim to enhance our residents' quality of life by providing a varied range of social activities.

We pride ourselves on the quality of our catering, with our Chef Manager preparing meals daily from fresh, seasonal ingredients.

Set in a quiet village location and in its own private grounds, Northbourne care home is close to local services and amenities, such as shops and a park.

In times of uncertainty, Anchor is a care provider you can depend on. We are proudly not-for-profit with 60 years of experience.

We're here to help and look forward to giving you a warm welcome.


I would just like to submit an excellent review for Northbourne Care Home, our mother has lived here for the past two years and in that time she has displayed some rather challenging behaviour due to her mixed Dementia. The managers and care staff have treated our mother and ourselves with nothing but the highest care, support and love, they are ab… solutely so professional and highly skilled in their roles. They make everyone feel so welcome and there is a warmth, it is such an amazing place to live and visit. I highly recommend.

Mam is 92 and had been living in her own home with support from my dedicated sister and carers. She has Alzheimer's, is partially blind and has mobility issues. After being hospitalised after a fall, she went to live at Northbourne in August 2022. We chose the home carefully after visits to other homes. The manager and staff are professional and ki… nd and treat residents like family. There are always fun activities organised, and the staff are exemplary. It is an outstanding place with staff who go above and beyond with tons of Geordie warmth and humour thrown in. We know our precious Mam is safe and in good hands.

My mother moved into Northbourne in August 2022 after a fall and a few weeks in hospital. She has Alzheimer's disease and mobility issues. Like most people we never wanted mam to go into a care home and thought she would be able to remain in her home with support. It was a traumatic experience for my mother, my sister and me but the manager and al… l of her wonderful staff made the move bearable. We chose Northbourne because it is full of life, felt homely and friendly and was not like any other care home we'd experienced. We feel confident that mam is well looked after. They keep us informed of how mam is doing and any issues that occur. The staff are full of fun but professional, kind and caring. They do a fantastic job. I can't praise them enough. They encourage mam to get involved in all of the great activities they organise which is brilliant for her as she's a very sociable person. The manager and her staff always go the extra mile and treat everyone as family.

My father has been a resident at Northbourne Care Home since January 2020. He recently was admitted to hospital with what turned out to be sepsis. He was discharged after about ten days, recovered from the sepsis but very frail, poorly and with a painful bedsore. From the moment he returned to Northbourne his actual care has been of the highest sta… ndard, staff obtaining, without delay, a special mattress to improve his comfort. He has been encouraged to return to a healthy diet and to drink regularly. Each day, my dad has grown stronger and his mobility is beginning to return. Thank you Northbourne for the care, kindness and encouragement given to Dad.

Mam has been at Northbourne for two years now. The staff have been through some tough times with the Covid outbreak at the home. They have kept the family informed of everything that has been happening within the home, and more importantly, with Mam. The home itself is clean. The staff are friendly and treat Mam with respect. The only disappointmen… t is that her memory book with sentimental family photos etc and a framed family photograph is missing from her belongings. I would recommend Northbourne to anyone.

When I had to find a home for my mum I contacted several, I was really impressed with my first contact with the manager and other staff I spoke to. They really seemed to care about my mum and recognised how difficult it was for us as a family, this has continued throughout my mum's stay. The staff are excellent, friendly and supportive of my mum, w… ho although she has Dementia is still fit and quite able to get around. My mum is at a stage in her illness where she can be difficult at times but the staff are great with her, always trying to settle her down and make her laugh (which she does). If there are any concerns they contact me immediately, which is very reassuring, they work with me and other healthcare organisations to ensure my mum is fit and as happy as possible. COVID has undoubtedly placed a huge strain on everyone, but I have never heard a complaint or seen any reduction in the care my mum receives. I can't speak highly enough of the staff and would recommend Northbourne.

My mam has been a resident with Northbourne for four years in March. She was here before Covid, and her care was excellent with great activities and caring staff. When Covid came, the home was excellent with the care they gave during this time, making where possible we were allowed to see Mam, in person, behind screens or vis Skype. They have been … excellent in maintaining the standard of care that is expected. The staff have put their health and safety on the line for us.
1 of 3
Features of Northbourne
Communal facilities
Shared facilities complementing each private residence:
Engaging activities programme
Garden
Communal lounge
Hairdressing salon
Communal iPad
Care and support
In addition to residential care, we also offer:
Palliative care
Huntington's disease
Dementia care
Convalescence care
Parkinson's disease
Food and dining
We promote wellbeing through a positive dining experience:
Communal dining area
Nutrition and hydration stations
Life at Northbourne
At Northbourne care home, we provide quality 24-hour residential care and specialist care for residents with dementia.

We support and develop our staff on an ongoing basis to enable them to provide the highest quality care for our residents.

At our home we have:
- A 'pets are welcome' policy by arrangement with the Manager
- A hairdressing salon
- An internet cafe
- A lift to upper floors
- A personal laundry facility and laundry service
- A pay telephone and the facility for a private telephone line in each room
- Regular religious services and meetings should you wish to take part
- Newspapers which can be ordered and delivered daily to your room
- Wheelchair access and car parking

Nearby facilities:
- Newcastle town centre and Metrocentre are 4 miles away and can be reached using excellent bus services
- The nearest hospital is Queen Elizabeth
- Newcastle railway station is 4 miles away
- A theatre, swimming pool, golf course and supermarket are under 4 miles away


Northbourne is a unique, purpose-built residence which was designed to provide residential care. Set in a quiet location and in its own grounds, Northbourne has single en-suite rooms, some with lovely views of the gardens, countryside, etc.

Our home is fully furnished and decorated to a high standard with a call system which ensures that help is at hand 24 hours a day.

We also have:
- Some rooms with views of the gardens
- A television point and connections for satellite and digital TV
- Tea-making facilities available to make drinks for you and your visitors

Other accommodation facilities include:
- Cosy lounges with TVs and quiet areas for reading and relaxing
- A guest suite available for family and friends to stay overnight
- Bathrooms specially equipped so you can relax in comfort
- Safe, enclosed gardens

We encourage you to bring small personal items to enhance your room.


We know how important mealtimes are to our residents, so we always try to make this a sociable and enjoyable experience, whilst recognising individual choice.

Northbourne's Food Promise ensures all our menus offer freshly cooked, appetising and nutritionally balanced meals including:

- Cooked breakfast everyday
- Wholesome homemade soup everyday
- Freshly baked biscuits and cakes everyday
- Traditional Sunday Roast
- Fish and Chip Friday

Our Chefs understand the nutritional needs of older people and ensure that our meals are prepared using fresh, seasonal ingredients.

We serve tasty, wholesome dishes and involve residents in selecting our menus at a local level. We offer daily choice of meals and cater for special dietary needs and preferences, helping keep our residents healthy and well nourished.
Our care home organises and arranges a variety of opportunities for our residents to enjoy daily activities in our home and in the local community.

We work in partnership with the National Association for Providers of Activities for Older People (NAPA) and encourage activities that enhance our residents' lifestyle, health and wellbeing.

Residents preferred activities, interests and ability are discussed when they move in and an agreed plan ensures that these requests are fulfilled (wherever possible). Our residents' suggestions for activities also help shape the planning process.

We organise supervised day trips to leisure facilities and places of interest as well as social events in the home, including themed restaurant evenings, arts and crafts, quizzes and regular entertainers.


Activities calendar
| Day | Morning | Lunch | Afternoon | Evening |
| --- | --- | --- | --- | --- |
| | Coffee morning | No activity | Baking | No activity |
| | Hairdresser | No activity | Film club | No activity |
| | Armchair exercises (fortnightly) | Church service (monthly) | Games afternoon | No activity |
| | Gardening club | No activity | Knit & natter | Gentlemen's club |
| | Pet therapy (monthly) | Fish & chip lunch | No activity | Trip to the pub |
| | No activity | No activity | Arts & crafts | No activity |
| | No activity | No activity | Afternoon tea (monthly) | No activity |
Health
At Northbourne, our caring and attentive staff work with our residents and their loved ones to create a detailed care plan which ensures our residents individual health and care needs are met.

We know how important it is to care for our residents with the dignity and respect they deserve and this is at the heart of what we do at Northbourne care home.

Our commitment to advanced dementia training for our staff has helped the Department of Health pass its goal of 3,000 Dignity Champions nationwide.

Our health and social care partners include:
- A GP who is available on request
- A hairdresser visits every week
- A chiropodist visits on request
- A dentist and optician who visit the home
- The district nurse and physiotherapist who visit by arrangement
- Holistic therapist visits can be arranged

Pricing information
We endeavour to be completely transparent about all our charges and fees. For further information please contact us.
How much does it cost?
Care homes
Call us to discuss your specific care needs today
What is included in care home fees?
For many people, moving to a care home is a big decision and it can be difficult to know where to start. Care home fees are based on a range of factors, including specific care needs, which can change over time.

Living in an Anchor care home you can be confident that a single fee covers the cost of your personally tailored 24 hour care and support, utility bills and meals, as well as a fantastic range of daily activities. In an Anchor care home our weekly charge includes:
- cost of personal care
- accommodation
- utilities e.g. heating and light
- all resident catering, meals, snacks and drinks
- laundry undertaken on the premises
- television licence, including for person use
- housekeeping services.

The following extra items and services are not covered by the weekly fees, however we can arrange for them to be provided (at an additional cost):
- professional hairdressing
- personal copies of newspapers or magazines
- personal purchases such as stationery, confectionery, toiletries etc.
- clothing, shoes and slippers
- dry cleaning
- private telephone line rental and calls and cable connections.

In the absence of free provision by the NHS, we can also arrange for the following healthcare services to be provided, these will be charged in addition to the weekly fees:
- chiropody
- optometry
- dentistry
- physiotherapy
- other privately arranged healthcare
- care staff accompaniment to regular medical appointments.

No upfront deposit is required at any of Anchor's care homes to secure a room.

At Anchor we pride ourselves on offering a truly tailored approach to care and therefore need to fully understand your needs to provide you with an accurate fee estimate. Please call us to discuss your specific care needs today. Alternatively we welcome you to visit us to discuss your situation face-to-face.
Want more information on care home fees?
Learning about the different funding options available to you can also help you feel confident in your decisions. Anchor know that securing care home funding can sometimes appear a rather daunting task and so to help we have put together a free guide covering requesting assistance, top up fees and third-party payments.
Care home fees
At Northbourne we have a caring team of well qualified professionals, passionate about what they do and dedicated to ensuring our residents always feel confident that they can rely on a friendly face and helping hand 24-hours a day.

We encourage visits to Northbourne so you can meet our team and get a feel of what it would be like to live here. You will be able to look around, meet other residents, find out what goes on and ask any questions you may have. It is important to us that you make the right decision and are happy with your choice of new home.
---
Alison Fryer
Care Home Manager
Our customers and colleagues take great pride in our home, the care, support and stimulation offered to make happy living for the years ahead. Please come and visit us and see for yourself.
---
Emma Eagle
Deputy Manager
Here at Northbourne we take a great deal of pride in the fantastic care we offer.
---
Joanne Gregory
Administrator
I'm here to help customers and their families feel confident in their choice and ensure they feel supported and in control. Pop in and see our home for yourself.
Welcoming you
To start your enquiry simply click 'Enquire now' at the top of the page and either call us or complete an online enquiry form.
We'll provide you with full details of the home, along with any other information you'd like, such as sample menus and activity schedules.
Whether you're looking to stay with us permanently, or for a short break, we'd be delighted to take you on a show round of the home in person. Simply book a visit with the home manager once you've made your enquiry.
If you or your loved one doesn't live nearby or are unable to visit in person we can provide a virtual show round. Either way, we're keen to show you what daily life is like here and for you to meet our friendly team.
We hope you decide that following your visit that you or your loved one would like to move into the home, in which case we'll organise a pre-assessment to make sure we can meet all your care needs.
Our friendly onsite team will discuss every area of moving-in with you in detail to make sure you and your loved-one know exactly what to expect and feel confident, safe and welcomed when coming to live with us.
Before you move in, we will find out if there are any of your possessions that you wish us to place in your room before you arrive. Please bring your family photographs and most treasured possessions to help make your room your home.
We understand how important visits are for everyone and we welcome regular visits from family and friends. We also actively support our residents to enjoy visits away from the care home.
Each of our homes is different and the manager of the care home you're interested in will provide all the information you need around visiting.
Getting here
Northbourne
Durham Road, Low Fell, Gateshead, Tyne and Wear, NE9 5AR
Want to find out more about Northbourne?