The Signals
HookHampshire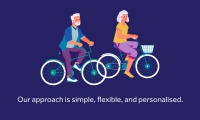 Welcome to The Signals
The Signals is our new development of affordable homes for over 55's in Hook, Hampshire.

Nestled in the scenic landscape of Hampshire's Hart district, at The Signals you will find a collection of stylish one and two-bedroom retirement apartments available to rent and or purchase through Older Persons Shared Ownership, that offer you the perfect blend of small-town living and convenient accessibility.

Situated in Hook, with excellent transport connections to London, Southampton, Reading, and nearby villages, The Signals brings you the best of both worlds. The town features a range of shops and amenities and has a welcoming community feel, with country parks, nature reserves and walking trails all within easy reach.

The thoughtfully designed apartments at The Signals are complemented by a range of first-class onsite facilities, including a spacious resident's lounge and welcoming cafe, both perfect for socialising with friends.

Surrounded by like-minded people that share a similar outlook on life, at The Signals family and friends are always welcome, and you'll find there is always something new to enjoy.

If you'd like more information about The Signals please get in touch. We'd be delighted to hear from you.
The Signals currently has 0 reviews
Show suite now open
Thoughtfully designed apartments
Features of The Signals
Communal facilities
Shared facilities complementing each private residence:
Beauty salon
Cafe
WiFi
2 lifts
Scooter storage
Outdoor space
Well maintained outdoor space for you to enjoy:
Garden
Seated patio area
Landscaped gardens
Care and support
More support available when you need it:
Supporting Manager
24 hour emergency response call system
Life at The Signals
The Signals offers 75 stylish one and two-bedroom apartments designed with the comfort and convenience of those in later life in mind.

The thoughtful design features and high-quality fixtures and fittings found throughout each apartment at The Signals are the direct result of our many years' experience in helping older people to make the most of later life, and will ensure you feel proud of your contemporary new home.

Providing affordable homes and choice in later life
The Signals offers older people interested in independent living the opportunity to buy or rent a beautiful purpose-built home for the future.
At The Signals 40 out of the 75 apartments are for sale through the Older Persons Shared Ownership scheme, and the remainder are available as affordable rented properties.
Please contact us to find out more about how Older Persons Shared Ownership works and discuss what services the affordable rent includes at The Signals.

Be Wise – our free and impartial service
We understand that moving to a retirement living development is a significant decision, and affordability plays a crucial role. Our dedicated Be Wise team is available to provide those looking to buy or rent a home at The Signals with free and impartial advice, support and practical assistance on a range of topics to help you make the most of your money.
For those looking for a new Older Persons Shared Ownership home with us they are able to offer Personalised Affordability Guidance to help you explore various options that suit your needs and budget, and for those interested in renting they can advise you on any benefits you may be entitled to and how to claim.
Find out more about Be Wise here.

Whether you crave contemporary styling, a warm and friendly community or just a low maintenance, affordable home, we offer all these things and more at The Signals.
Pricing information
We endeavour to be completely transparent about all our charges and fees. Below is indicative pricing to act as a guide to the costs at The Signals , Hook. For further information please contact us.
How much does it cost?
Properties for rent
Your monthly fee will range from £1,018.04.
Properties for sale
One bedroom apartments from £195,000 and two bedroom apartments from £246,250. Prices based on 50% share, prices may fluctuate depending on percentage purchased.
What is included in rental fees?
In taking up an offer of a rental retirement property at The Signals you will be asked to make a monthly rental payment. As well as contributing towards the maintenance and repair costs of your property, your rent also includes your contribution towards the communal services and facilities that Anchor provide to tenants at The Signals.
You will not be asked to pay a service charge.
Full details of exactly what you pay and the communal services and facilities included will be set out within your tenancy agreement, call us today to find out more.

Help paying your rental payment
There are a number of benefits to which you may be entitled. Anchor's Be Wise Team can advise you on what you may be entitled to and how to claim, or assist with problems you may have with existing benefits you are receiving.
Find out more about Be Wise here.

What is included in leasehold charges?
Purchasers can find full details of the costs associated with moving into The Signals as well as details of what is included in the service charge on our Making the Move page here.
Getting here
The Signals
Station Road, Hook, Hampshire, RG27 9YG
For sat nav's please use – RG27 9YG
Want to find out more about The Signals ?
Follow The Signals on Facebook
Stay up to date with news from The Signals by following us on Facebook.
Follow us on Facebook