Patching Lodge Extra Care Housing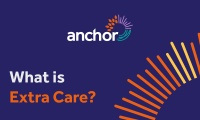 Welcome to Patching Lodge Extra Care Housing
A friendly and safe welcome
Find out how we are welcoming new residents into our retirement housing, alongside the measures in place to keep everyone safe.
Patching Lodge Extra Care Housing in Brighton is a large estate, offering 76 one and two bed retirement apartments, with lift access to all floors.

On-site facilities include an attractive rooftop garden offering sea views, a lounge, hair salon, guest room and a cinema. The restaurant serves hot and cold dishes each day. Just a few minutes' walk from Marine Parade and the sea front, shops, amenities, entertainments and bus routes are all close by. The local manager is available every week day, to assist with any queries you may have, and arrange buildings and grounds maintenance as required. Regular social activities are available, providing an opportunity to meet with other residents. There's a 24-hour alarm call system in each apartment, plus extra help is available via the on-site care team and support workers.

As an Approved Operator, we have signed up to the ARCO Consumer Code, and aim to ensure compliance with the ARCO Consumer Code in the operation of our extra care housing schemes and villages (see www.arcouk.org).
Patching Lodge Extra Care Housing currently has 0 reviews
Properties for sale
As well as offering properties for rent, Patching Lodge also has a selection of retirement properties for sale. Contact us to find out whether any of the leasehold apartments are currently available for sale.
Email us
Features of Patching Lodge Extra Care Housing
Communal facilities
Shared facilities complementing each private residence:
1 lift
Scooter storage
Car parking available
Outdoor space
Well maintained outdoor space for you to enjoy:
Care and support
More support available when you need it:
24 hour emergency response call system
Life at Patching Lodge Extra Care Housing
At Patching Lodge we have a range of great on-site facilities available to all residents, including a lounge, restaurant, hair salon, cinema, a guest room for visiting friends and family, and rooftop garden offering sea views.

The building is purpose-built, ensuring it is wheelchair accessible throughout and includes lifts to all floors.

There is also a secure door entry system for your added peace of mind.

Patching Lodge is just a few minutes' walk from Marine Parade and the sea front, shops, amenities, entertainments and bus routes are all close by.
At Patching Lodge we offer purpose-built and well-maintained properties for people over the age of 55 to rent, in a safe and secure setting.

All our properties are self-contained, with their own front door, offering the privacy and independence you expect.

Living at Patching Lodge Extra Care Housing is just like living in an independent retirement flat, but with the added benefit of access to support when you need it. Your home will have a bathroom, kitchen with fully-fitted cupboards, ample storage space, lounge and bedroom areas. It will be easy to maintain and you will have the freedom to decorate and furnish it as you wish.

Many of the people who live in at Patching Lodge arrange broadband and digital or satellite TV and most properties already have a telephone point installed ready for your own private telephone line.

For added peace of mind, each of our properties are also fitted with a 24-hour emergency call and secure door entry system.

At Patching Lodge our catering service focuses on delivering freshly cooked, good quality and well balanced meal choices within a restaurant style environment – with allergies and food preferences catered for.

Our catering service is just one of the ways we can help you maintain your independence as your needs and lifestyle change.
You'll find our Extra Care Housing locations are thriving communities, offering a variety of social activities, to take part in as and when you wish.

At Patching Lodge we organise a range of activities throughout the week which reflect the interests of the people living here and change on a regular basis.
Health
If you are 55 and over, still independent but need a little help time to time, then Extra Care Housing could be for you. It's just like living in an independent retirement flat, but with the added benefit of access to care and support when you need it.

Move into one of our self-contained properties at Patching Lodge and you'll be getting your own high quality home, with the reassurance of care and support from a 24-hour on-site team of professionals. You'll also benefit from a range of great on-site facilities in a fully accessible setting, and a thriving community.

At Patching Lodge Extra Care Housing we support those aged over 55 with one or more care or support needs to continue to live independently by offering a range of services that support and flex to your needs. This could range from help with shopping, cooking, housekeeping, catering, care, housing related support and wellbeing. You decide the type and level of support that suits your lifestyle.

On-site care provision at Patching Lodge is local authority approved and funded (subject to financial assessment).

A local manager is based on site to provide peace of mind when it comes to maintaining your home and managing your tenancy. You'll also find active links with the local community that promote socialisation, including specialised interest groups and services.
Pricing information
We endeavour to be completely transparent about all our charges and fees. Below is indicative pricing to act as a guide to the costs at Patching Lodge Extra Care Housing, Brighton. For further information please contact us.
How much does it cost?
Properties for rent
Your monthly fee will range from £922.97 and normally includes your rent, service charge, heating, hot water and water rates. Full details of exactly what you pay will be set out within your tenancy agreement, call us today to find out more.
What is included in rental fees?
Our service charge covers all the cost of amenities you share with your neighbours, including the estate manager service, our 24-hour emergency call service (Anchor On Call), repairs and maintenance, window cleaning, gardening and the cleaning of communal areas.

Your local council will be able to advise you about getting help paying your rent and service charge through housing benefit. They will also be able to tell you if they will be paying a grant to us to meet or contribute towards the support cost elements of our services to you.
To ensure Extra Care housing is right for you, and you meet local eligibility criteria, your application will usually need to go through a local process which involves the local authority, a nominated care provider and us.

Enquire now to speak to the local manager who will explain the application process for Patching Lodge, eligibility criteria and any local charges. You will also be able to arrange a viewing and see the facilities and what life is like here.
Straightforward, supportive and safe
Staying safe
We continue to welcome new residents to our retirement housing safely and residents, colleagues and visitors are welcome to wear face-coverings, for example, in shared and busy areas.
Making the most of technology
Everyone's safety and wellbeing is our absolute priority, so where possible we are offering prospective residents the opportunity to use technology to do virtual viewings and can send videos and photographs to support your decision making. We will of course be delighted to welcome you for an in-person viewing if this is your preference.
Useful information
To start your enquiry, simply click "Enquire now" and call us or complete an enquiry form.
Our helpful team will offer you all the information you need to find your next home - we'll provide you with full details of the property including up to date information on current vacancies and our waiting list.
They will be your main point of contact and will work with you to ensure your move goes smoothly and will continue to support you to settle in, offering you any advice and guidance you need to feel at home and confident in your choice to live with us.
Getting here
Patching Lodge Extra Care Housing
Park Street, Brighton, East Sussex, BN2 0AQ
Want to find out more about Patching Lodge Extra Care Housing?
Other Retirement property for rent nearby