Morrel Court Extra Care Housing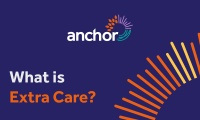 Welcome to Morrel Court Extra Care Housing
A friendly and safe welcome
Find out how we are welcoming new residents into our retirement housing, alongside the measures in place to keep everyone safe.
Morrel Court Extra Care Housing has 34 one bed retirement apartments, set within shared gardens.

Residents' on-site facilities include a shared lounge, laundry, lift and a treatment room.

A local manager oversees the properties and estate services, as well as helping you to access further help and support if you need it. Located on Goldsmiths Row, Cambridge Heath overground railway station is within walking distance.

A variety of bus services operate across the city nearby. Haggerston Park is behind the estate, while local amenities include cafés, barbers, a supermarket plus the many stalls at Broadway and London Fields markets.
Morrel Court Extra Care Housing currently has 0 reviews
Features of Morrel Court Extra Care Housing
Communal facilities
Shared facilities complementing each private residence:
1 lift
Scooter storage
Car parking available
Outdoor space
Well maintained outdoor space for you to enjoy:
Care and support
More support available when you need it:
24 hour emergency response call system
Life at Morrel Court Extra Care Housing
At Morrel Court we have a range of great on-site facilities available to all residents, including a lounge, laundry, treatment room, a guest room for visiting friends and family, a conservatory, and communal gardens for exercising and gardening.

The building is purpose-built, ensuring it is wheelchair accessible throughout and includes lifts to all floors.

There is also a secure door entry system for your added peace of mind.

Nearby facilities include cafés, barbers, a supermarket plus the many stalls at Broadway and London Fields markets.

There are excellent transport links across the city close to the property.
If you are over 55 years old and wanting to own a retirement property without the burden of maintenance and repairs, our managed properties may be the answer. Our estates are all very different. They range from a small cul–de-sac of six bungalows to a large estate of 86 apartments. Most are set in pleasant landscaped settings.

At each estate there will be an estate manager who can act as the first point of contact for any queries that residents may have and offer help to access any local services.
You'll find our Extra Care Housing locations are thriving communities, offering a variety of social activities, to take part in as and when you wish.

At Morrel Court we organise a range of activities throughout the week which reflect the interests of the people living here and change on a regular basis.
Health
If you are 55 and over, still independent but need a little help time to time, then Extra Care Housing could be for you. It's just like living in an independent retirement flat, but with the added benefit of access to care and support when you need it.

Move into one of our self-contained properties at Morrel Court and you'll be getting your own high quality home, with the reassurance of care and support from a 24-hour on-site team of professionals. You'll also benefit from a range of great on-site facilities in a fully accessible setting, and a thriving community.

At Morrel Court Extra Care Housing we support those aged over 55 with one or more care or support needs to continue to live independently by offering a range of services that support and flex to your needs. This could range from help with shopping, cooking, housekeeping, catering, care, housing related support and wellbeing. You decide the type and level of support that suits your lifestyle.

On-site care provision at Morrel Court is local authority approved and funded (subject to financial assessment).

A local manager is based on site to provide peace of mind when it comes to maintaining your home and managing your tenancy. You'll also find active links with the local community that promote socialisation, including specialised interest groups and services.
Pricing information
We endeavour to be completely transparent about all our charges and fees. Below is indicative pricing to act as a guide to the costs at Morrel Court Extra Care Housing, London. For further information please contact us.
How much does it cost?
Properties for rent
Your monthly fee will range from £592.46 and normally includes your rent, service charge, heating, hot water and water rates. Full details of exactly what you pay will be set out within your tenancy agreement, call us today to find out more.
What is included in rental fees?
The services provided by our estate managers include: liaising with residents and prospective residents; making sure the estate is safe, secure and welcoming; maintaining the building and managing the estate. The costs for these services, carried out by our professional staff, are included in the monthly service charge.

All this has the added advantage of protecting property values for all residents.

The estate manager is available to discuss financial issues related to the running of the estate. The audited accounts will be sent to you by post every year. Actual expenditure is monitored against the annual budget throughout the year and service charges are reviewed annually.

Service charges are put together in accordance with the terms of your lease. They cover the costs associated with the upkeep of the estate, including insurance of the building and maintenance of communal areas.
To ensure Extra Care housing is right for you, and you meet local eligibility criteria, your application will usually need to go through a local process which involves the local authority, a nominated care provider and us.

Enquire now to speak to the local manager who will explain the application process for Morrel Court , eligibility criteria and any local charges. You will also be able to arrange a viewing and see the facilities and what life is like here.
Straightforward, supportive and safe
Staying safe
We continue to welcome new residents to our retirement housing safely and residents, colleagues and visitors are welcome to wear face-coverings, for example, in shared and busy areas.
Making the most of technology
Everyone's safety and wellbeing is our absolute priority, so where possible we are offering prospective residents the opportunity to use technology to do virtual viewings and can send videos and photographs to support your decision making. We will of course be delighted to welcome you for an in-person viewing if this is your preference.
Useful information
To start your enquiry, simply click "Enquire now" and call us or complete an enquiry form.
Our helpful team will offer you all the information you need to find your next home - we'll provide you with full details of the property including up to date information on current vacancies and our waiting list.
They will be your main point of contact and will work with you to ensure your move goes smoothly and will continue to support you to settle in, offering you any advice and guidance you need to feel at home and confident in your choice to live with us.
Getting here
Morrel Court Extra Care Housing
Goldsmiths Row, London, Greater London, E2 8QS
Want to find out more about Morrel Court Extra Care Housing?
Other Retirement property for rent nearby