Moore Place care home, Esher
eshersurrey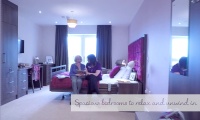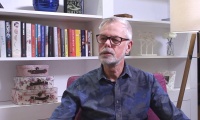 Welcome to Moore Place
A friendly and safe welcome
Find out about making an enquiry and how we ensure a warm and safe welcome to all new residents.
Moore Place is located in the picturesque town of Esher, on the London-Surrey border. Our luxurious residential care home offers first-class care and support to older people requiring permanent care, shorter breaks, trial stays, convalescence and individuals living with dementia. Set in the beautiful surroundings of the Surrey green belt, Moore Place offers five-star accommodation and everything somebody looks for in a home – warmth and laughter, comfort and relaxation, and all the facilities and support they need to live a fulfilled and independent life.

Each of our private bedroom suites is designed for space and safety and furnished for comfort and convenience and benefit from a modern en suite wet room. Bright and spacious, our home is designed to the highest standards including underfloor heating, wi-fi and advanced technology to support our care. Moore Place offers residents a light and spacious home, which is luxuriously appointed and meticulously finished. Carefully conceived with all our experience and passion to meet the needs and expectations of the next generation of older people, within elegant surroundings.

Our high-quality care is planned with residents and their families and tailored to each resident's individual needs, by our dedicated and experienced team of carers. We ensure that every resident continues to get the best out of life, whether they prefer an active social life or peace and quiet.

The staff are very friendly, they answer your questions and help over most issues that you ask them. Moore Place is a lovely place and one feels happy and content here. We have lovely flowers in the reception and elsewhere - a true and relaxing place.

Since I have been at Moore Place, I have very much enjoyed the various outings. For example; yesterday we went to Chessington Garden Centre, which is gearing up for Christmas.

Mum has been at Moore Place for about six years. It's wonderful. The room, garden, common areas, food and activities are all absolutely excellent. But what really matters is the care, and Moore Place could not be better, from everything I have seen over all those years. All the staff are so kind, patient and understanding to Mum and all the residen… ts. They treat her with love and dignity. It is obvious that they genuinely care. It feels totally safe - in everything from the physical environment to the training and responsiveness of the staff. Many have been there ever since Mum first arrived - which tells much about how very well managed it is. It is not for profit, so the motives are about care. They understand about dementia, which is extremely important as it is not uncommon and indeed is now gradually affecting Mum. They know the importance of family and friends and do everything possible to enable and encourage us to visit. I am hugely grateful and highly recommend it.

I have spent the last couple of months at Moore Place Care Home. Where I have been extremely well looked after by all the staff, regardless of the position they hold. I have been treated as a person and not just a number. If I have any problems, staff find the time to explain things to me. Trips out are arranged, including a trip last month to see … a singer, what a treat. Thank you for caring for what was once a small thing but is now, unfortunately, more major. Thank you all.

I found the staff and management so very helpful and willing to do anything required. The overall service at Moore Place has been excellent.

Excellent for all the staff. Great communication and my observation of staff/client interaction is very positive. Facilities are very good and Mum said the food was great. The gardens are lovely and Mum enjoyed sitting outside.

My mum has been living at Moore Place for two years and is settled and happy there and well cared for. She recently celebrated her 100th birthday and the staff and management went out of their way to make it a very special day for her and her family. The chef provided delicious food and a wonderful cake. They had decorated the area and she and her … family had a really lovely and memorable afternoon. We are very grateful for the kindness and care of the Moore Place team.
1 of 3
Features of Moore Place
Communal facilities
Shared facilities complementing each private residence:
Engaging activities programme
Garden
Communal lounge
Hairdressing salon
Minibus
Care and support
In addition to residential care, we also offer:
Respite care
Palliative care
Huntington's disease
Dementia care
Convalescence care
Food and dining
We promote wellbeing through a positive dining experience:
Communal dining area
Nutrition and hydration stations
Life at Moore Place
With social events in the home and the community, arranged in collaboration with residents, you can make your life at Moore Place a hive of activity or as gentle as you wish.

Activities, interests and ability are discussed when you move in and an agreed plan ensures that these requests are fulfilled. Your suggestions for activities also help shape the planning process.

We know how important it is to maintain close bonds with the people in your life. At Moore Place, your visitors are always welcome at any time, including mealtimes. We also encourage you to maintain links with the wider community and come and go as you please.
Activities calendar
| Day | Morning | Lunch | Afternoon | Evening |
| --- | --- | --- | --- | --- |
| | Armchair exercises | No activity | Scrabble | No activity |
| | Anchor bus service | No activity | Word games | No activity |
| | Armchair exercises | No activity | One-to-one chit chat | No activity |
| | Anchor bus service | No activity | Ball Games | No activity |
| | Games morning | No activity | Armchair exercises | No activity |
| | Card games | No activity | Film club | No activity |
| | Church service | No activity | Bingo | No activity |
Pricing information
We endeavour to be completely transparent about all our charges and fees. For further information please contact us.
How much does it cost?
Care homes
Call us to discuss your specific care needs today
What is included in care home fees?
For many people, moving to a care home is a big decision and it can be difficult to know where to start. Care home fees are based on a range of factors, including specific care needs, which can change over time.

Living in an Anchor care home you can be confident that a single fee covers the cost of your personally tailored 24 hour care and support, utility bills and meals, as well as a fantastic range of daily activities. In an Anchor care home our weekly charge includes:
- cost of personal care
- accommodation
- utilities e.g. heating and light
- all resident catering, meals, snacks and drinks
- laundry undertaken on the premises
- television licence, including for person use
- housekeeping services.

The following extra items and services are not covered by the weekly fees, however we can arrange for them to be provided (at an additional cost):
- professional hairdressing
- personal copies of newspapers or magazines
- personal purchases such as stationery, confectionery, toiletries etc.
- clothing, shoes and slippers
- dry cleaning
- private telephone line rental and calls and cable connections.

In the absence of free provision by the NHS, we can also arrange for the following healthcare services to be provided, these will be charged in addition to the weekly fees:
- chiropody
- optometry
- dentistry
- physiotherapy
- other privately arranged healthcare
- care staff accompaniment to regular medical appointments.

No upfront deposit is required at any of Anchor's care homes to secure a room.

At Anchor we pride ourselves on offering a truly tailored approach to care and therefore need to fully understand your needs to provide you with an accurate fee estimate. Please call us to discuss your specific care needs today. Alternatively we welcome you to visit us to discuss your situation face-to-face.
Want more information on care home fees?
Learning about the different funding options available to you can also help you feel confident in your decisions. Anchor know that securing care home funding can sometimes appear a rather daunting task and so to help we have put together a free guide covering requesting assistance, top up fees and third-party payments.
Care home fees
At Moore Place we have a caring team of well qualified professionals, passionate about what they do and dedicated to ensuring our residents always feel confident that they can rely on a friendly face and helping hand 24-hours a day.

We encourage visits to Moore Place so you can meet our team and get a feel of what it would be like to live here. You will be able to look around, meet other residents, find out what goes on and ask any questions you may have. It is important to us that you make the right decision and are happy with your choice of new home.

The friendly team at Moore Place care home would love the chance to show you what our home has to offer here in Surrey. Here are just a few of the people you may meet on a visit to our home:
---
Julia Cleaver
Home Administrator
I love meeting new people and find helping them through the process of change really rewarding. I look forward to meeting with you and showing you all our home has to offer.
Welcoming you
To start your enquiry simply click 'Enquire now' at the top of the page and either call us or complete an online enquiry form.
We'll provide you with full details of the home, along with any other information you'd like, such as sample menus and activity schedules.
Whether you're looking to stay with us permanently, or for a short break, we'd be delighted to take you on a show round of the home in person. Simply book a visit with the home manager once you've made your enquiry.
If you or your loved one doesn't live nearby or are unable to visit in person we can provide a virtual show round. Either way, we're keen to show you what daily life is like here and for you to meet our friendly team.
We hope you decide that following your visit that you or your loved one would like to move into the home, in which case we'll organise a pre-assessment to make sure we can meet all your care needs.
Our friendly onsite team will discuss every area of moving-in with you in detail to make sure you and your loved-one know exactly what to expect and feel confident, safe and welcomed when coming to live with us.
Before you move in, we will find out if there are any of your possessions that you wish us to place in your room before you arrive. Please bring your family photographs and most treasured possessions to help make your room your home.
We understand how important visits are for everyone and we welcome regular visits from family and friends. We also actively support our residents to enjoy visits away from the care home.
Each of our homes is different and the manager of the care home you're interested in will provide all the information you need around visiting.
Getting here
Moore Place
Portsmouth Road, Esher, Surrey, KT10 9LH
Want to find out more about Moore Place?
A review from the son of a Moore Place resident
"I have been impressed with the good level of physical activity, entertainment and (prior to lockdown) trips out provided to residents on a weekly basis. I have found management always receptive to suggestions and accommodating of requests. It is a great relief to know, living overseas in these particularly difficult times, that my mother is in very safe hands. Thank you to all at Moore Place!"
Read more reviews on www.carehome.co.uk