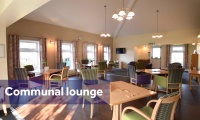 Welcome to Jubilee Court
A friendly and safe welcome
Find out how we are welcoming new residents into our retirement housing, alongside the measures in place to keep everyone safe.
At Jubilee Court extra care retirement housing scheme in Eston, we offer 14 one bedroom and 28 studio purpose-built properties for rent for people over the age of 55. We also offer on-site support from trained care staff should you require any additional help.

The property is situated close to Eston Square and has excellent transport links to the centre of Middlesbrough and Redcar. Local shops are within 10 minutes' walking distance and include supermarkets, a post office, bakery, hairdressers and cafes. There are doctors' surgeries in Normanby and South Bank, which are accessible on the local bus route. Other local amenities include a library, a swimming pool and a day centre.

We understand that sometimes you like to be alone and at other times you may want to be more sociable. Our properties give you that freedom. At Jubilee Court we run social activities, including coffee mornings, a lunch club and fish and chip nights.

You will not need to worry about maintenance and repairs or gardening upkeep as we take care of those. We provide a wide range of facilities, including a communal lounge, a guest room, a garden with seating area, an on-site laundry and 10 parking spaces.
Jubilee Court currently has 0 reviews
Features of Jubilee Court
Communal facilities
Shared facilities complementing each private residence:
WiFi
1 lift
Hairdressing salon
Secure door entry system on all external doors
Car parking available
Outdoor space
Well maintained outdoor space for you to enjoy:
Garden
Extensive grounds
Seated patio area
Communal greenhouse
Landscaped gardens
Care and support
More support available when you need it:
On‑site care services
Supporting Manager
24 hour emergency response call system
Life at Jubilee Court
At Jubilee Court we have a range of facilities available to all tenants, including a communal lounge, hair salon, accessible shower room, guest room, car parking for 12 cars and a mobile library that calls every 3 weeks.

Nearby facilities include a supermarket, post office, baker, butchers, banks, travel agent, chemist, GP surgery and dentist.

At Jubilee Court we offer 42 properties to people over 55. There are 14 one bedroom flats and 28 studio apartments.

All our properties are self-contained, allowing the privacy and independence that you enjoy. You will have a bathroom, kitchen with fitted cupboards, storage space, lounge and bedroom areas. If you want to give your home a personal touch, you have the freedom to decorate and furnish it as you wish.

All our properties are digital and satellite TV compliant. You can also arrange to have your own private telephone or broadband connection installed.
Please contact the scheme manager who can give you more details.

At Jubilee Court we organise a range of activities, which change on a regular basis. Examples include bingo sessions, quizzes, garden bowls and monthly supper night.
Tenants are also able to join the nearby St John's Ambulance day centre, which provides hot meals Monday to Friday.

Activities calendar
| Day | Morning | Lunch | Afternoon | Evening |
| --- | --- | --- | --- | --- |
| | Coffee morning | Luncheon club | No activity | No activity |
| | No activity | Luncheon club | No activity | No activity |
| | No activity | Luncheon club | No activity | No activity |
| | No activity | Luncheon club | No activity | No activity |
| | No activity | Luncheon club | No activity | Fish & chip supper |
| | No activity | No activity | No activity | No activity |
| | No activity | No activity | No activity | No activity |
Pricing information
We endeavour to be completely transparent about all our charges and fees. Below is indicative pricing to act as a guide to the costs at Jubilee Court, Middlesbrough. For further information please contact us.
How much does it cost?
Properties for rent
Your monthly fee will range from £516.30 and normally includes your rent, service charge, heating, hot water and water rates.
What is included in rental fees?
Our service charge covers all the cost of amenities you share with your neighbours, including the scheme manager service, our 24-hour emergency call service (Anchor on Call), repairs and maintenance, window cleaning, gardening and the cleaning of communal areas.

Your local council will be able to advise you about getting help paying your rent and service charge through housing benefit. They will also be able to tell you if they will be paying grant to us to meet or contribute towards the support cost elements of our services to you.
Straightforward, supportive and safe
Staying safe
We continue to welcome new residents to our retirement housing safely. We ask residents, colleagues and visitors to consider using face-coverings in shared and busy areas and have thorough cleaning regimes for our shared spaces.
Making the most of technology
Everyone's safety and wellbeing is our absolute priority, so where possible we are offering prospective residents the opportunity to use technology to do virtual viewings and can send videos and photographs to support your decision making. We will of course be delighted to welcome you for an in-person viewing if this is your preference.
Useful information
We are open to new residents.
To start your enquiry, simply click "Enquire now" and call us or complete an enquiry form.
Our helpful team will offer you all the information you need to find your next home - we'll provide you with full details of the property including up to date information on current vacancies and our waiting list.
When inviting you to consider a property everyone's safety and wellbeing is our absolute priority.
To help you view the available property we can send you photographs and videos and offer a virtual show round video call, where you will be able to speak to the friendly manager one-to-one and take a look around. Alternatively, we can offer an in-person viewing if you prefer.
During this time we continue to exercise precautions to ensure the safety and wellbeing of our colleagues and visitors and so will only invite you to view a property in person once it is empty, and after you confirm that no member of your household is displaying any symptoms or self-isolating.
Our aim is for each viewing to be as safe and easy as possible, so during your visit the manager will observe social distancing at all times and you will be asked to follow handwashing guidelines and consider using a face covering in the communal areas. Ahead of your arrival the manager will open all the doors minimising your need to touch surfaces and ensuring rooms are well ventilated. They will also minimise risk by taking you to the property via the safest route possible and back up all other precautions with a thorough cleaning regime.To help you view the available property where possible we will send you photographs and videos and offer a virtual show round video call, where you will be able to speak to the friendly manager one-to-one and take a look around.
Your manager looks forward to welcoming you to your new home.
They will be your main point of contact and will work with you to ensure your move goes smoothly and will continue to support you to settle in, offering you any advice and guidance you need to feel at home and confident in your choice to live with us.
During this difficult time, we recognise, see and hear how much coronavirus is affecting the people living independently with us across our retirement housing and we want to help and support you as much as we can.
As part of that support, we have introduced a range of new tools to complement the existing wellbeing services we offer residents. These include services such as BeActive, our free online wellness and movement programme and we have also partnered with UK-wide call companion provider Reengage to offer a free telephone-based befriending service, BeSupportive, to help those who may not have others to talk to.
Where possible, we also put residents in touch with the many great local initiatives that aim to support people during this time and beyond.
Read more about how we are supporting our housing residents during coronavirus here.
Getting here
Jubilee Court
Jubilee Road, Eston, Middlesbrough, North Yorkshire, TS6 9QQ
Want to find out more about Jubilee Court?
Other properties for rent nearby