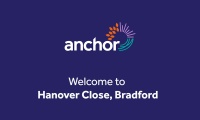 Welcome to Hanover Close
Hanover Close in Bradford offers 55 one and two bed retirement apartments set within attractive gardens. The estate has a good amount of private off road car parking. A local manager oversees buildings and grounds maintenance plus repairs, as well as helping with access to further help and support if required. Located close to local shops, the hospital and other amenities, a bus stop is nearby for services to the city centre. On-site facilities at Hanover Close include a residents' lounge and free use of the laundry room. Optional social activities take place in the lounge, providing an opportunity to get to know other residents.
Hanover Close currently has 0 reviews
Features of Hanover Close
Outdoor space
Well maintained outdoor space for you to enjoy:
Care and support
More support available when you need it:
24 hour emergency response call system
Life at Hanover Close
We offer purpose-built and well-maintained rented accommodation for people over the age of 55.

Your home will be completely self-contained with your own front door allowing the privacy and independence you expect. It will be easy to maintain, and you will be able to give your new home a personal touch and decorate and furnish it as you wish.

Your kitchen will have fully-fitted units. There will be storage space and lounge and bedroom areas.

Many of the people who live in our properties have arranged broadband and digital or satellite TV and most properties have a telephone point.

You will want to feel safe in your new home and that's why each of our properties is fitted with an emergency alarm.
Pricing information
We endeavour to be completely transparent about all our charges and fees. Below is indicative pricing to act as a guide to the costs at Hanover Close, Bradford. For further information please contact us.
How much does it cost?
Properties for rent
Your monthly fee will range from £484.25 and normally includes your rent and service charge. Full details of exactly what you pay will be set out within your tenancy agreement, call us today to find out more.
What is included in rental fees?
Our service charge covers all the cost of amenities you share with your neighbours, including the estate manager service, our 24-hour emergency call service (Anchor On Call), repairs and maintenance, window cleaning, gardening and the cleaning of communal areas.

Your local council will be able to advise you about getting help paying your rent and service charge through housing benefit. They will also be able to tell you if they will be paying a grant to us to meet or contribute towards the support cost elements of our services to you.
Applying to live here
Anyone aged 55 or over can apply for an Anchor property.
Property options will depend on your circumstances and what's available.
If this location is showing immediate availability you may be able to move in straight away. However, due to the popularity of our locations, it's likely that you'll be placed on a waiting list, with properties allocated based on a number of factors (see frequently asked questions).
Make an enquiry
To start your enquiry, simply click the "Enquire now" button where you'll be given the option to complete an online enquiry form or to call us on the number provided.

Choose your home
We'll send you information about the location(s) you're interested in, including details of current vacancies and any waiting list(s). If you'd like to visit, you're welcome to contact the local manager who'll be happy to show you around in person. If you'd prefer, we can also offer virtual viewings using technology to support your decision-making, where this is possible.

Complete an application
Once you've decided that a location is right for you and that you're eligible, you'll need to apply for a property by calling our Customer Centre on 0800 731 2020. Or visit your chosen location where the manager will take your application. In either case, we'll take you through the process in person.

Next steps
Where there's a vacant property and no waiting list, you'll be able to view it and may be able to move in immediately. However, due to their popularity, many locations have a waiting list.

Once we receive and have processed your application, you'll receive a letter confirming that you're on the waiting list for your chosen location(s) and advising you on what you can expect next.

Your application will be held on the waiting list in date order. Note that we may need to offer a property to someone who's applied after you and has a priority need for housing (see frequently asked questions).
Below are some frequently asked questions to help you apply to live with us:
Which locations can I apply for?
You can apply to live in any of our properties throughout England.
How many locations can I apply for?
You can apply for up to five retirement housing for rent locations. However, make sure you only apply for locations that you're interested in as you can only refuse up to three offers before your application is closed for all locations.
How do you allocate properties on the waiting list?
We'll put your application on the waiting list in date order however there are several other factors that need to be taken into account:
We're obliged to offer some of our empty properties to local authorities - this varies from location to location
When we do let from our own waiting list then we initially seek to offer properties to:

our own tenants and leaseholders who are seeking a transfer, subject to living with Anchor for at least 12 months, adhering to our tenancy agreement, and having an up-to-date rent account. Existing residents receive only one priority move with Anchor.
an applicant with a priority need for housing. This may include someone who urgently needs a specially adapted property.
We aim to make the best use of our properties by matching the size of an applicant's household to the size of the property and those with a better match will be offered a property first.
How long will I have to wait for a property?
We can let you know how many people are on the waiting list for location(s) you're interested in as well as how many properties we've let to applicants on the waiting list in the past 12 months.
However, we're unable to give you an exact timeframe for how long it will take to be offered a property. Timings will depend on the waiting list and a property becoming available.
Can I take a tour of the location?
Yes, the local manager will be happy to show you around, although you may not be able to see inside properties if they're occupied. If you'd like to visit, please contact the local manager using the number provided on enquiry.
If you'd prefer, we can also offer virtual viewings using technology to support your decision-making, where this is possible.
The local manager will provide important local information such as public transport options, car parking and scooter storage, social activities taking place, alongside room dimensions and what furnishings you can expect.
They can also help you to complete an application if required.
In many of our locations we welcome applicants on the waiting list to join in social activities so you can make friends before you make a move.
I've also applied to my local authority – can I still apply for an Anchor property?
Yes. We work with a large number of local authorities. If you also apply to a local authority, you may increase your chances of finding a property. For more information, contact your local authority's housing department.
Getting here
Hanover Close
Hanover Close, Off Toller Lane, Bradford, West Yorkshire, BD8 9DF
Want to find out more about Hanover Close?
Other Retirement property for rent nearby