Nelson Lodge care home, Eaton Socon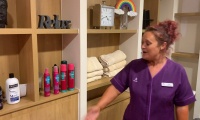 Welcome to Nelson Lodge
A friendly and safe welcome
Find out about making an enquiry and how we ensure a warm and safe welcome to all new residents.
Nelson Lodge in Eaton Socon, St Neots is a contemporary residential care home set in modern and comfortable surroundings. Meticulously finished to a very high standard, Nelson Lodge offers first class care and facilities with en-suite rooms for up to 64 residents, in a light, spacious and elegant setting.

At Anchor, we have a long history of caring for older people and we put our residents at the heart of everything we do. In times of uncertainty, Anchor is a care provider you can depend on. We are proudly not-for-profit with almost 60 years of experience. Nelson Lodge is the result of this approach, carefully conceived with all our experience and passion, to meet the needs and expectations of the next generation of older people.

Our dedicated service, combined with Nelson Lodge's luxurious environment and facilities, allow our residents to live a full, rich and meaningful life in the company of supportive, like-minded people.

If you are looking for a home for yourself or a loved one, why not find out more about what Nelson Lodge has to offer.
Features of Nelson Lodge
Communal facilities
Shared facilities complementing each private residence:
Engaging activities programme
Garden
Communal lounge
Hobby / craft room
Hairdressing salon
Care and support
In addition to residential care, we also offer:
Huntington's disease
Parkinson's disease
Food and dining
We promote wellbeing through a positive dining experience:
Nutrition and hydration stations
Private dining area
Life at Nelson Lodge
You'll always find plenty to do at Nelson Lodge, with a host of daily leisure activities for you to take part in.

Quiet areas and spacious en-suite rooms ensure peace and privacy when you want it. We adopt a 'pets welcome' policy by arrangement with the home manager.

A hair and beauty salon, tea room, lounges and quiet spaces are all at hand. On warm days take a stroll in the landscaped gardens and enjoy the peaceful setting. Or simply enjoy a break at one of the outdoor seating areas.

Nelson Lodge is close to the Cross Keys shopping centre and leisure centre. There are also a wide range of local amenities close by including:
• Shops at the Cross Keys shopping centre are two miles away
• Leisure centre, which includes swimming pool and gym is three miles away
• St Neots train station is three miles away
• Papworth Hospital and Hinchingbrooke Hospital are both 10 miles away
• Cinema is two miles away.
Nelson Lodge offers a warm, safe and friendly environment, with facilities to make you feel at home in our care.

Nelson Lodge is purpose built with care in mind and offers a wide range of features and facilities designed with the very latest technology and to Anchor's exacting specifications:

• DVD players and flat screen TVs in every bedroom
• Fridge in every room and lockable drawers
• Free WiFi throughout the home
• Flat screen TVs and DVD players in some lounges
• Well decorated, tasteful interior design
• Dining room and lounge on every floor
• Quiet lounges and seating areas
• Hair and beauty salon
• Tea room
• Engaging events and activities
• Beautiful landscaped gardens with outdoor seating areas
• Some ground floor rooms with patio doors.
At Nelson Lodge we make the most of meal times.

Anchor has won national recognition for the quality of its food and catering service. And with dining areas on each floor, you don't have far to go to enjoy each mealtime.
All our menus offer freshly cooked, wholesome, appetising and nutritionally balanced food with a different choice every day. We'll get to know your likes and dislikes, catering for any special dietary requirements so that you enjoy all of the meals we serve.
You'll always find plenty to do at Nelson Lodge. With a host of leisure activities for you to take part in, our home has a great community feel where people engage with their fellow residents, families and friends, and continue doing all the things they usually enjoy in a supportive environment.

With social events in the home and the community arranged in collaboration with residents, you can make your life at Nelson Lodge a hive of activity or as gentle as you wish.

Favourite activities, personal interests and ability are discussed when you move in and using this information helps us create a stimulating events and activities calendar matching individual residents' interests and needs.

Activities calendar
| Day | Morning | Lunch | Afternoon | Evening |
| --- | --- | --- | --- | --- |
| | Knit & natter | Luncheon club | Coffee afternoon | Pamper session |
| | Sing-a-long | Luncheon club | Arts & crafts | Quiz |
| | Gardening | Luncheon club | Games afternoon | Card games |
| | Hairdresser | Luncheon club | Entertainment afternoon (monthly) | Dominoes |
| | Keep fit class | Fish & chip lunch | One-to-one chit chat | Film club |
| | Reminiscence activities | Luncheon club | Scrabble | Bingo |
| | Coffee morning | Luncheon club | Jigsaw puzzles | Games evening |
Health
Because each of us is unique, we encourage you to choose how your care is planned and delivered at Nelson Lodge. We work closely with you and your family, to build a personal picture of your needs. Little things can make a big difference, so we always strive to understand what is important to you. We call it person centred care because it's built around you or your loved one and their preferences. It's there to help you settle in really quickly, with regular reviews to keep things up-to-date.

Dedicated staff ensure care, support and understanding is tailored to your exact needs. They will ensure that you continue to enjoy maximum independence and 24-hour peace of mind, knowing that all the help and assistance you might need is always at hand.
All carers employed by Anchor are given intensive training and are required to complete NVQ qualifications and a range of in-house courses to assure you of the best possible care.

We provide high quality care and support for residents living with dementia by treating them as individuals. All of our employees are trained and supported by our dedicated dementia team to ensure residents feel valued and able to live life to the full. Ever ready to offer support to family and friends via access to information and advice, their approach respects the uniqueness of each person rather than focusing on the diagnosis of dementia.
Spring - Short Stay Respite 3 for 2
We are offering you an opportunity to receive 3 weeks care for the price of 2 weeks when you move into one of our participating care homes on a short stay respite basis.
Terms & conditions apply
Welcoming you
To start your enquiry simply click 'Enquire now' at the top of the page and either call us or complete an online enquiry form.
We'll provide you with full details of the home, along with any other information you'd like, such as sample menus and activity schedules.
Whether you're looking to stay with us permanently, or for a short break, we'd be delighted to take you on a show round of the home in person, subject to meeting COVID-19 safety guidelines. Simply book a tour with the home manager once you've made your enquiry.
We can also provide a virtual show round if you'd prefer. Either way, we're keen to show you what daily life is like here and for you to meet our friendly team. You can also see for yourself how we keep residents safe.
We hope you decide that following your visit that you or your loved one would like to move into the home, in which case we'll organise an assessment to make sure we can meet all your care needs.
Ensuring residents' safety and wellbeing is our absolute priority.
Our friendly team will discuss every area of moving-in with you in detail to make sure you and your loved-one know exactly what to expect and feel confident, safe and welcomed when coming to live with us.
We understand how important visits are for everyone and we follow government guidelines in welcoming regular visits from family and friends. We also actively support our residents to have visits away from the care home, and make sure this is always in line with any government COVID-19 guidance.
As each of our homes are different, the home manager will provide all the information you need around visiting.
Getting here
Nelson Lodge
Whinfell Close, Eaton Socon, St Neots, Cambridgeshire, PE19 8AB
For sat nav's please use – PE19 8AB
Want to find out more about Nelson Lodge?