Marsh Farm Manor care home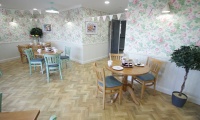 Welcome to Marsh Farm Manor
A friendly and safe welcome
Find out about making an enquiry and how we ensure a warm and safe welcome to all new residents.
Marsh Farm Manor care home is a contemporary residential care home, set in luxurious and comfortable surroundings and benefitting from private landscaped gardens. Our home is ideally located near Jubilee Lake, which is an area of ancient woodlands and flower-rich meadows. We are only minutes from the quaint market town of Royal Wootton Bassett. Royal Wootton Bassett is a town well regarded for its close links with the Royal Air Force, which was until most recently, based at Lyneham.

Marsh Farm Manor offers first class residential and dementia care for up to 66 residents.

Marsh Farm Manor offers a warm, safe and friendly environment, with facilities to make you feel at home in our care. Dedicated carers are recruited and trained to ensure care and support that is tailored to each resident's needs. They have also been specially selected for their personal qualities, such as being instinctively warm with a natural desire to help others – taking the time to have a friendly chat, reminisce or share a joke.
Virtual tour
If you'd like to take a look around our beautiful home, click below to view our virtual tour and see if Marsh Farm Manor is right for you or your loved one.
Find out more
Features of Marsh Farm Manor
Communal facilities
Shared facilities complementing each private residence:
Engaging activities programme
Garden
Communal lounge
Hairdressing salon
Library
Care and support
In addition to residential care, we also offer:
Respite care
Palliative care
Huntington's disease
Dementia care
Convalescence care
Food and dining
We promote wellbeing through a positive dining experience:
Communal dining area
Nutrition and hydration stations
Private dining area
Life at Marsh Farm Manor
Marsh Farm Manor is purpose-built with care in mind and offers a wide range of features and facilities designed with the very latest technology. This is complimented by high quality interior design:

- 66 large bedroom suites, with private wet room facilities
- A dining room on each floor, offering varied daily menu choices
- Coffee shop area and bar area to socialise
- Hair and beauty salon
- Beautiful landscaped gardens, with outdoor seating areas
- Some ground floor rooms with patio doors.
At Marsh Farm Manor, we make the most of mealtimes. Anchor has won national recognition for the quality of its food and catering service. Each floor of our home has a dining room, so you don't have far to go to enjoy each mealtime.

All our menus offer wholesome and nutritionally balanced food, which is prepared on site, with different choices every day. We'll get to know your likes and dislikes and cater for any special dietary requirements, so that you can enjoy all the meals we serve.

Our menus are fresh, appetising and served with a smile. We are committed to making mealtimes a sociable and pleasurable part of each day.
Being interested in what is going on and taking part in fun activities is a vital part of life. We organise activities which are designed to reflect the wishes and interests of residents. Quiet areas and spacious en-suite rooms also ensure peace and privacy when you want it.

A hair and beauty salon, coffee area, lounges and quiet spaces are all at hand. On warm days take a stroll in the landscaped gardens and enjoy the peaceful setting. Or simply enjoy a break at one of the outdoor seating areas.

Marsh Farm Manor is close to local shops, places of worship and other amenities. You can make your life at Marsh Farm Manor a hive of activity or as gentle as you wish, with social events in the home and the community arranged together with residents.

We know how important it is to maintain close bonds with the people in your life. At Marsh Farm Manor, visitors are always welcome at any time. We also encourage links with the wider community and regularly hold events in the home by inviting local groups to come and visit.
Health
Our carers will ensure that you continue to enjoy maximum independence as well as 24-hour peace of mind, knowing that all the help and assistance you might need is always at hand.

Our colleagues are carefully recruited and trained to ensure that warmth and understanding are at the heart of everything they do. Our carers use conversation and active listening to understand your holistic needs and desires. We are able to facilitate and create independence within personal limitations, empowering residents to take control of their life decisions.

We are committed to providing on-going training in all areas of care to all members of our care home team. Anchor provides in-depth training on a range of topics, including dementia care, to ensure we are following best practice guidance at all times.
What is included in care home fees?
Care home fees in England can vary substantially from provider to provider and from location to location. Understanding care home funding and accessing the right type of funding assistance can seem like a daunting task.

It is usual for residents in care homes to contribute to the cost of their own care. Some people have the resources to pay for their care in full, whilst others will make means-tested contributions.

The government sets national limits to determine eligibility for funding assistance. These limits can be subject to change, so it is always advisable to check the figures when choosing a care home.

Paying for your own care
Those who are able to pay for their own care can contact care homes directly. Once a preferred care home has been identified, the care provider will conduct a needs-based assessment.

How much is a weekly private fee?
At Marsh Farm Manor, our weekly private fees are £1,250 for a standard room and £1,300 for a garden room. We can provide you more information on fees and how they are charged.

Further details on what is included in your weekly inclusive fee can be found in our brochure, which can be downloaded using the enquire button.
Welcoming you
To start your enquiry simply click 'Enquire now' at the top of the page and either call us or complete an online enquiry form.
We'll provide you with full details of the home, along with any other information you'd like, such as sample menus and activity schedules.
Whether you're looking to stay with us permanently, or for a short break, we'd be delighted to take you on a show round of the home in person. Simply book a visit with the home manager once you've made your enquiry.
If you or your loved one doesn't live nearby or are unable to visit in person we can provide a virtual show round. Either way, we're keen to show you what daily life is like here and for you to meet our friendly team.
We hope you decide that following your visit that you or your loved one would like to move into the home, in which case we'll organise a pre-assessment to make sure we can meet all your care needs.
Our friendly onsite team will discuss every area of moving-in with you in detail to make sure you and your loved-one know exactly what to expect and feel confident, safe and welcomed when coming to live with us.
Before you move in, we will find out if there are any of your possessions that you wish us to place in your room before you arrive. Please bring your family photographs and most treasured possessions to help make your room your home.
We understand how important visits are for everyone and we welcome regular visits from family and friends. We also actively support our residents to enjoy visits away from the care home.
Each of our homes is different and the manager of the care home you're interested in will provide all the information you need around visiting.
Getting here
Marsh Farm Manor
Coped Hall, Royal Wootton Bassett, Swindon, SN4 8ER
Want to find out more about Marsh Farm Manor?